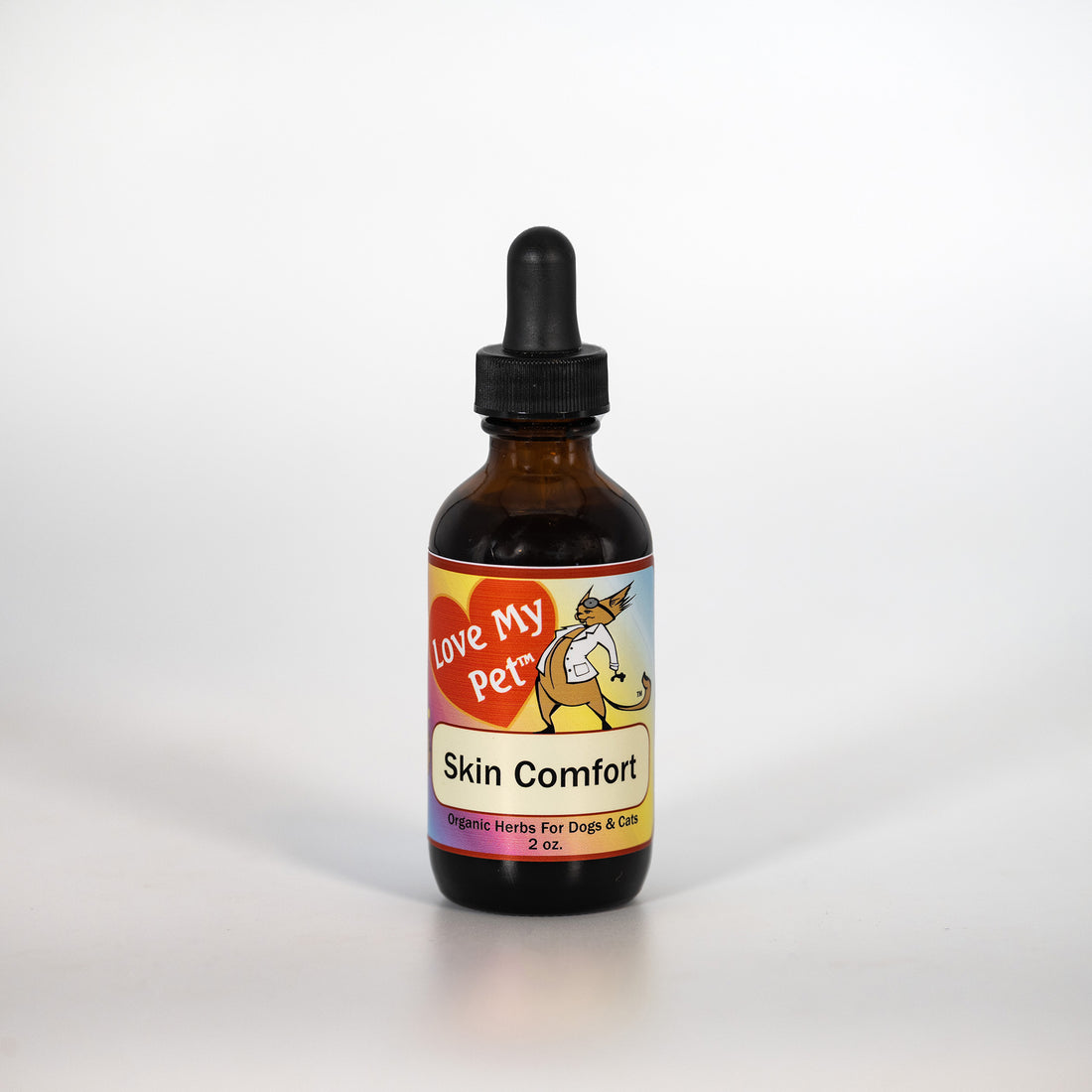 Herbal Supplement for Dogs & Cats
For dogs and cats with sensitive skin, our Love My Pets Skin Comfort drops are formulated specifically to help relieve skin irritations, hair conditions, itching, excess licking, allergies, and hot spots*. This gentle herbal formula for pets features all-natural ingredients with anti-inflammatory qualities that provide relief and comfort for a variety of skin conditions. Skin issues can occur on any pet, but may be more prevalent on under-exercised pets, aging animals, and specific dog breeds. Ease pet scratching, eczema, flea bites, and allergic skin conditions with this effective formula, which is vegan, gluten-free, and incorporates organic ingredients. Love My Pet Skin Comfort is a premium blended liquid supplement created especially to help our beloved family pets live comfortably and happily.
Burdock (Arctium lappa), Calendula (Calendula officinalis), Cleavers (Galium aparine), Dandelion (PU GONG YING), Yarrow (Achillea millefolium), Celandine (Chelidonium majus), Organic Aloe Vera (Aloe barbadensis). Other Ingredients: Proprietary Homeopathics, Organic Vegetable Glycerin, Organic Gluten-Free Alcohol (5%), and Distilled Water.
1 - 2 times daily added to water, food or treats. Dosage by weight: (10-20 lbs, 2-4 drops); (20-50 lbs, 4-10 drops); (50-80 lbs, 6-12 drops); (80+ lbs, 8-16 drops). See your veterinarian if symptoms persist.
*This statement has not been evaluated by the Food & Drug Administration: This Product is not intended to diagnose, treat, cure, or prevent any disease.