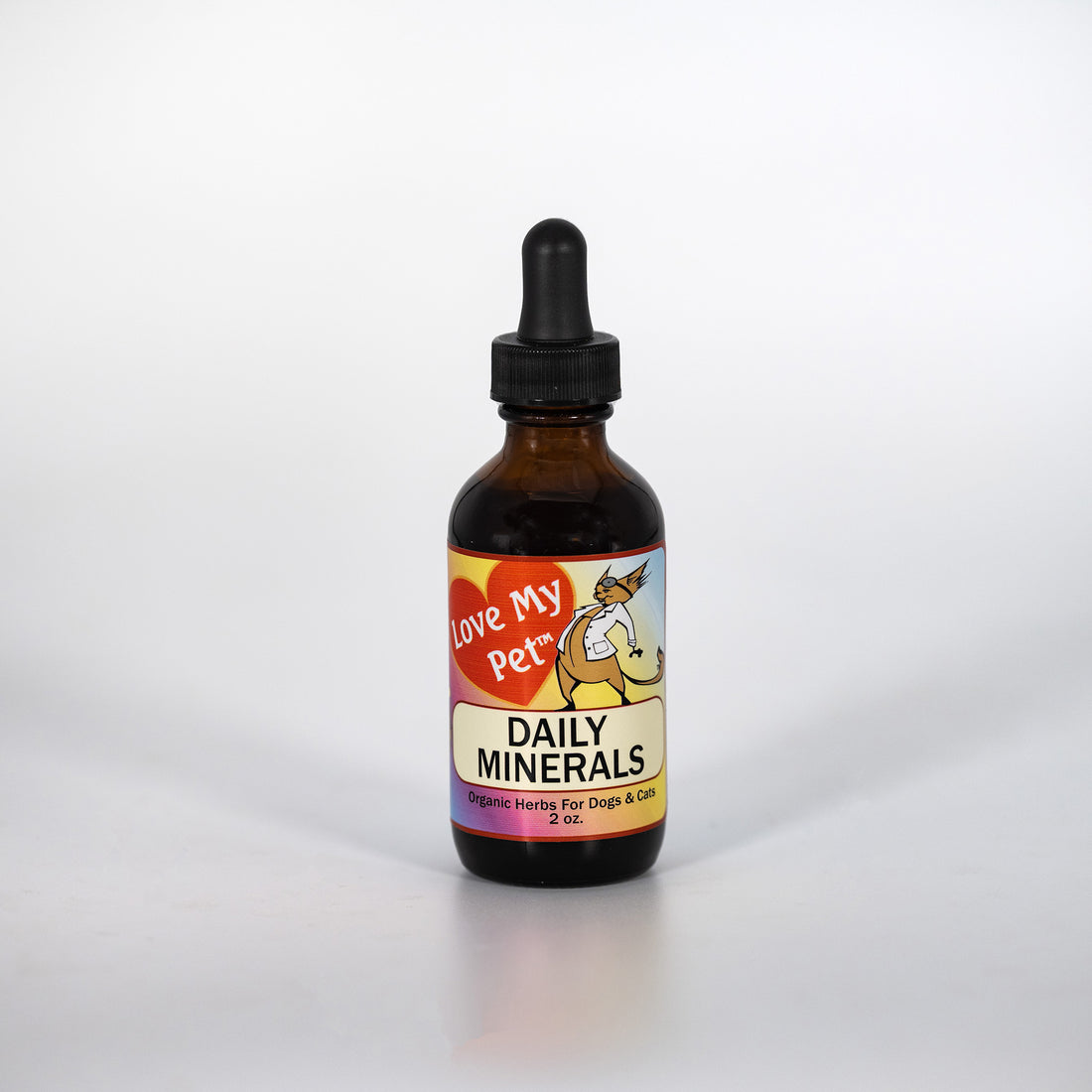 Herbal Supplement for Dogs & Cats
LoveMyPet Daily Minerals is 100% plant sourced to deter the formation of stones and provide overall well-being and strength. It can be used by almost any pet as a plant-based mineral supplement.
Dandelion (Taraxacum officinalis herb, root)
Caraway (Carum carvi fruit)
Chickweed (Stellaria media herb)
Dulse (Rhodymenia palmetto thallus)
Sarsparilla (Smilax febrifuga, S. medica root)
Mullein (Verbascum thapsus leaf)
Nettles (Urtica dioica herb, root)
Strawberry (Fragaria vesca leaf)
Plantain (Plantago major, P. lanceolata leaf)
Fennel (Foeniculum vulgare fruit)
Cleavers (Galium aparine herb)
Burdock (Arctium lappa root, seed)
Calendula (Calendula officinalis flower)
Oatstraw (Avena sativa herb, seed)
Dill (Anethum graveolens seed)
Organic alcohol- water extract.
Shake before using. Sediment does not alter quality.

Doseage: one to two times per day -
10-20lb - 2 - 4 drops
20-50lb - 4 - 10 drops
50-80lb - 6 - 12 drops
80+lb - 8 - 16 drops
Store in cool dark place.
*This statement has not been evaluated by the Food & Drug Administration: This Product is not intended to diagnose, treat, cure, or prevent any disease.