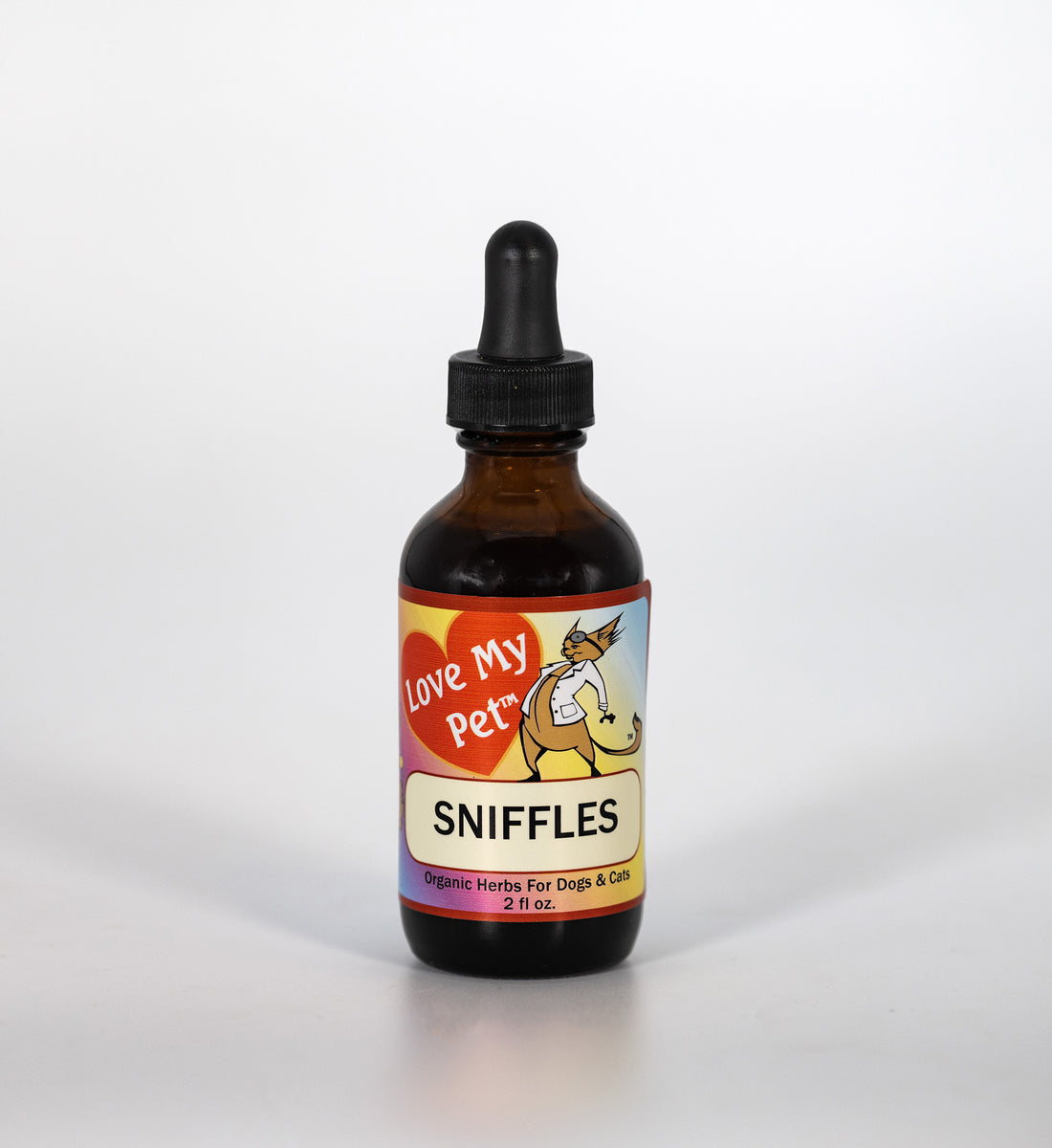 Herbal Supplement for Dogs & Cats
LoveMyPet Sniffles formula is a specialized combination of our most-effective cold and flu formulas - Anti-X, Deep Lung, and Chinese Cold & Flu - adapted for animals. Using vegetable glycerin to reduce the alcohol content, our broad spectrum cold and flu remedy for kids is a unique blend of natural and organic ingredients to help fight off illness*. This versatile all-in-one cold formula is designed to ease uncomfortable symptoms in pets like runny nose, congestion, swollen lymph nodes, and sore throat. Infused with powerful plant-based components, this solution is the optimal remedy to keep in the family medicine cabinet for cold and flu season. LoveMyPet Sniffless drops are vegan, gluten-free, and organic. Applications include: Seasonal flu, cold, stuffy nose, sinus infection, congestion, sinus pressure, painful lymph nodes, throat irritation.
Fritillaria cirrhosa (CHUAN BEI MU), Fritillariae thunbergii (ZHE BEI MU), Lily Bulb (BAI HE), Eleutherococcus (WU JIA PI), Mulberry bark (SANG BAI PI), Echinacea Leaf and Root (Echinacea purpurea), Japanese Honeysuckle (JIN YIN HUA), Loquat (PI PA YE), Isatis Leaf (DA QING YE), Isatis Root (BAN LANG GEN), Finger Citron (FO SHOU), Forsythia (LIAN QIAO), Gardenia (ZHI ZI), Perilla (ZI SU ZI), Lasiosphaera (MA BO), Sweet Wormwood (QING HAO), Dendrobium Stem (SHI HU), Poria (FU LING), Tangerine Peel (CHEN PI), Aster root (ZI WAN), Glehnia (BEI SHA SHEN), Licorice (GAN CAO), Adenophora Glehnia Root (MAI MEN DONG), Hogfennel Root (QIAN HU), Platycodon (JIE GENG), Kudzu (GE GEN), Trichosanthes Root (TIAN HUA FEN), Pinella (BAN XIA), Chinese Lovage Root (GAO BEN), Bitter Apricot Seed (XING REN), Peach Kernel (TAO REN), Chinese Honey Locust Spine (ZAO JIAO CI), Thyme (Thymus vulgaris), Cloves (DING XIANG), Cordyceps (Ophiocordyceps sinensis), Phellodendron (HUANG BAI), Elecampane (XUAN FU HUA), Magnolia (XIN YI HUA), Schisandra (WU WEI ZI), Wild Ginger (XI XIN), Centipeda (E BU SHi CAO), Schizonepeta (JING JIE), Indigo (QING DAI), Olibanum (RU XIANG), Peony (BAI SHAO), Chinese Figwort (XUAN SHEN), Baikal Skullcap (HUANG QIN), Astragalus (HUANG QI), Ledebouriella (FANG FENG), Trichosanthes Root (TIAN HUA FEN), Galangal (GAO LIANG JIA), Belamcanda (SHE GAN), Szechuan Lovage Root (CHUAN XIONG), Coptis (HUANG LIAN), Chinese Honey Locust Spine (ZAO JIAO), Andrographis (CHUAN XIN LIAN), Dandelion (PU GONG YING), Evodia (WU ZHU YU), Prunella (XIA KU CAO), Elderberry (Sambucus nigra), Elder Flower (Sambucus nigra), Allspice (Pimento dioica), Cardamom (Elettaria cardamomum), Coriander (Coriandrum sativum). Other Ingredients: Proprietary Homeopathics, Organic Vegetable Glycerin, Organic Gluten-Free Alcohol (5%), and Distilled Water.
Dosage:
1 - 2 times per day added to water, food or treats:
10-20lb - 1/16 - 1/8 tsp
20-50lb - 1/8 - 1/4 tsp
50-80lb - 1/4 - 1/2 tsp
80+lb - 1/2 - 1 tsp
*This statement has not been evaluated by the Food & Drug Administration: This Product is not intended to diagnose, treat, cure, or prevent any disease.