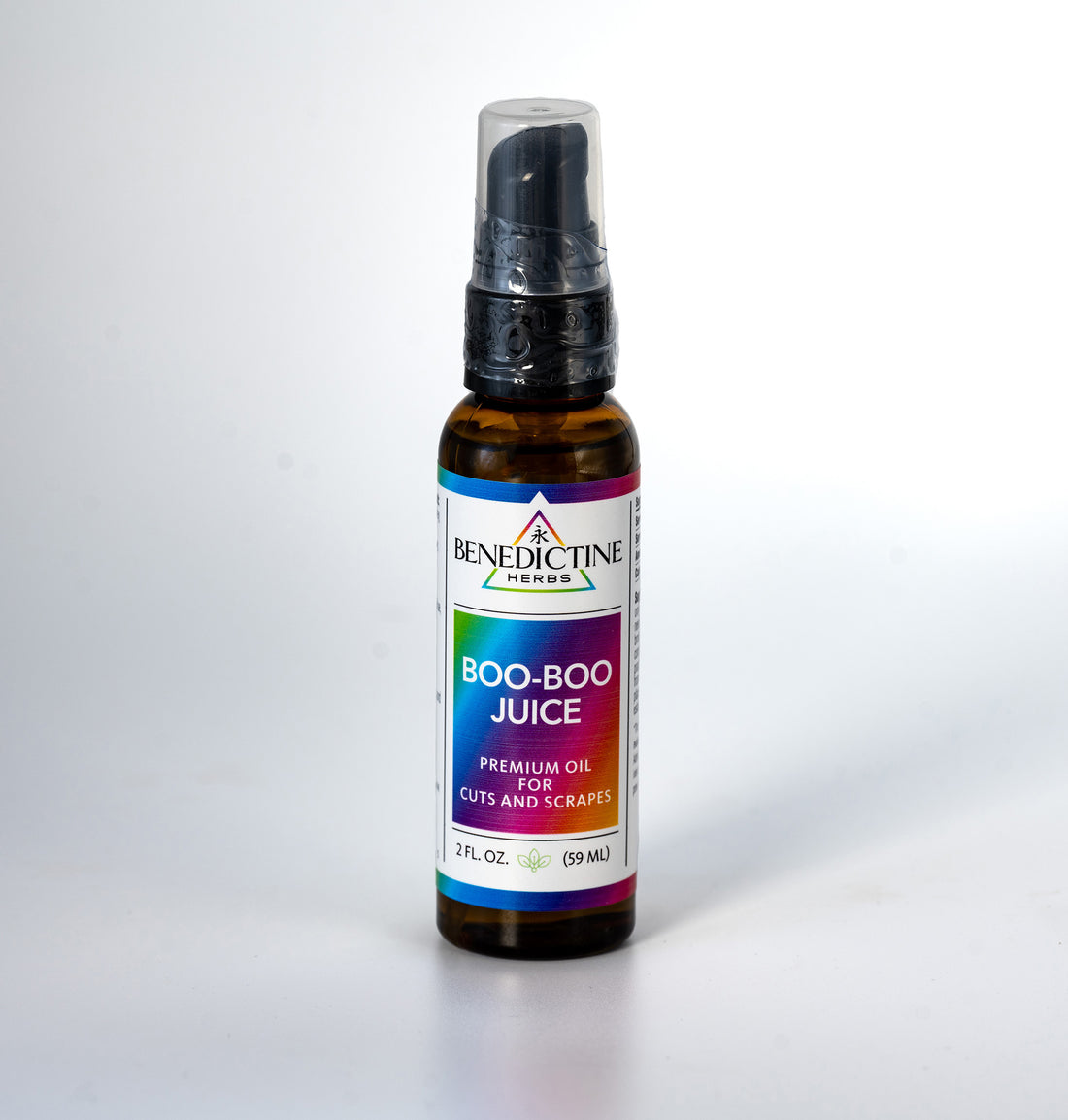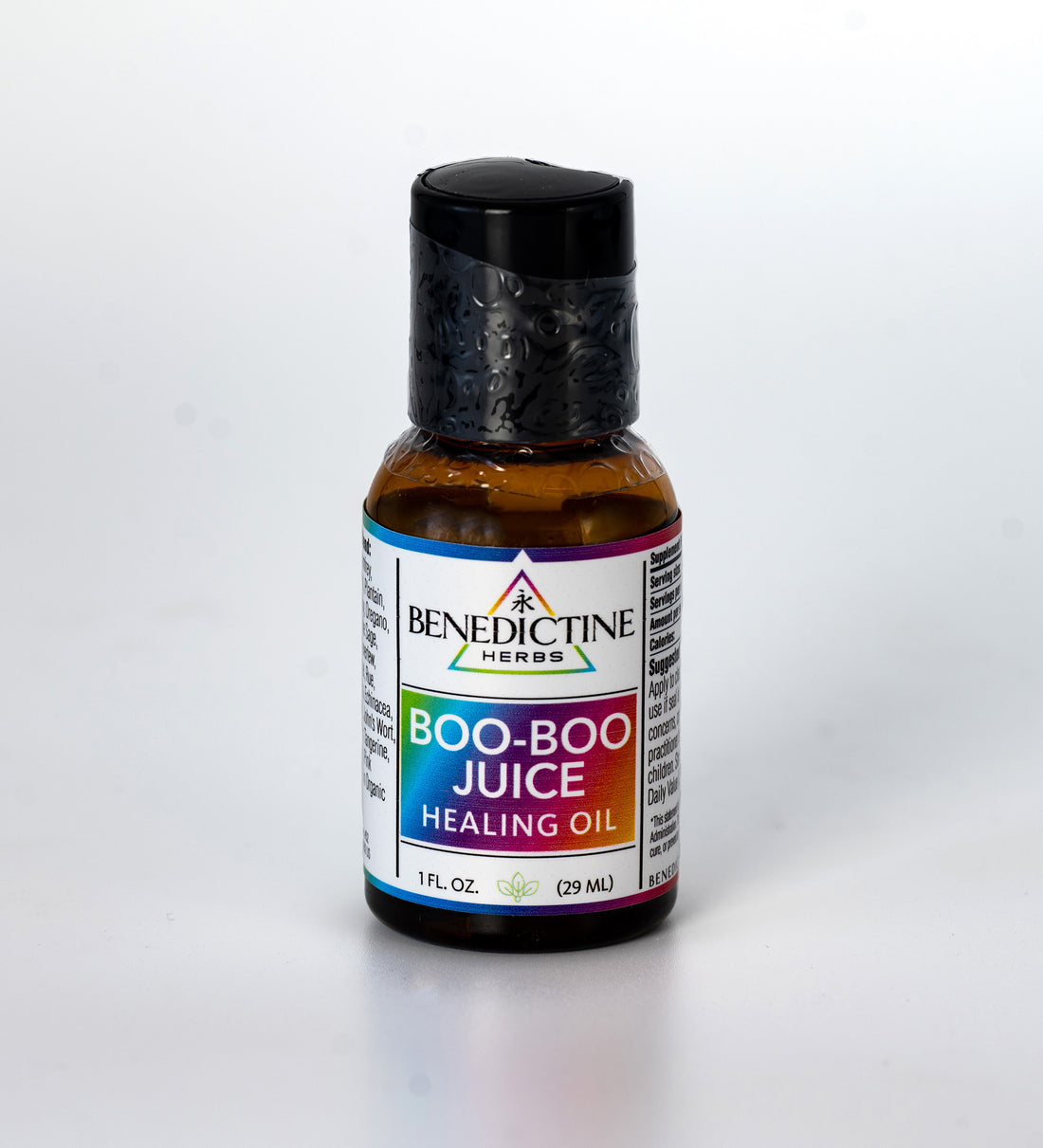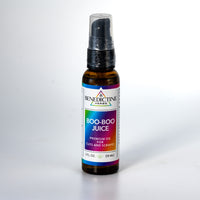 Premium Topical Healing Oil
This innovative Boo Boo Juice all-purpose regenerative healing oil* is an all-natural topical used for wounds and long-term bone and cartilage injuries, including sprained ankles and knee pain. Our antimicrobial herbal oil is the ideal topical for children's scrapes and bruises, and helps soothe a range of dermatological conditions. The versatile healing oil, which is infused with plant-based powerhouse ingredients, aids in the healing of wounds and painful, chapped skin. Nourishing Boo Boo Juice features extra-virgin olive oil and vitamin E to soothe abrasions, and is an all-in-one topical for the medicine cabinet. Applications include: Wound care, irritated skin, sunburn, scrapes, cuts, scratches, abrasions, contusions, ulcerations, bruises, bumpy skin, flaky skin, bed sores, and post-operative wounds.
Comfrey (Symphytum officinale), Calendula (Calendula officinalis), Mugwort (Artemisia vulgaris), Olive (Olea europaea), Self-Heal (Prunella vulgaris), Plantain (Plantago lanceolata), Horsetail (Equisetum arvense), Tansy (Tanacetum vulgare), Rosemary (Rosemarinus officinalis), Lemon Balm (Melissa officinalis herb), White Sage (Salvia apiana), Greek Sage (Salvia fruticosa), Oregano (Origanum vulgare), Motherwort (Leonurus cardiaca), Malva (Malva sylvestris), Borage (Borago officinalis), Thyme (Thymus vulgaris), Yarrow (Achillea millefolium), St. John's Wort (Hypericum perforatum), Teasel (Dipsacus asper), Rue (Ruta graveolens), Wormwood (Artemesia absinthium), Yucca (Yucca filamentosa), Rose Geranium (Pelargonium graveolens), Feverfew (Tanacetum parthenium), Echinacea (Echinacea purpurea), Celandine (Chelidonium majus), Periwinkle (Vinca minor). Other Ingredients: Vitamins A & E, Extra-Virgin Olive Oil, Organic Essential Oils: Roman Chamomile, Sweet Orange, Rose, Lavender, Bergamot, Pink Grapefruit.
External use only. Apply topically onto clean skin. Do not use if seal is broken. For medical concerns, consult a health practitioner before use. Keep away from children. Store in a cool dark place.
*This statement has not been evaluated by the Food & Drug Administration: This Product is not intended to diagnose, treat, cure, or prevent any disease.