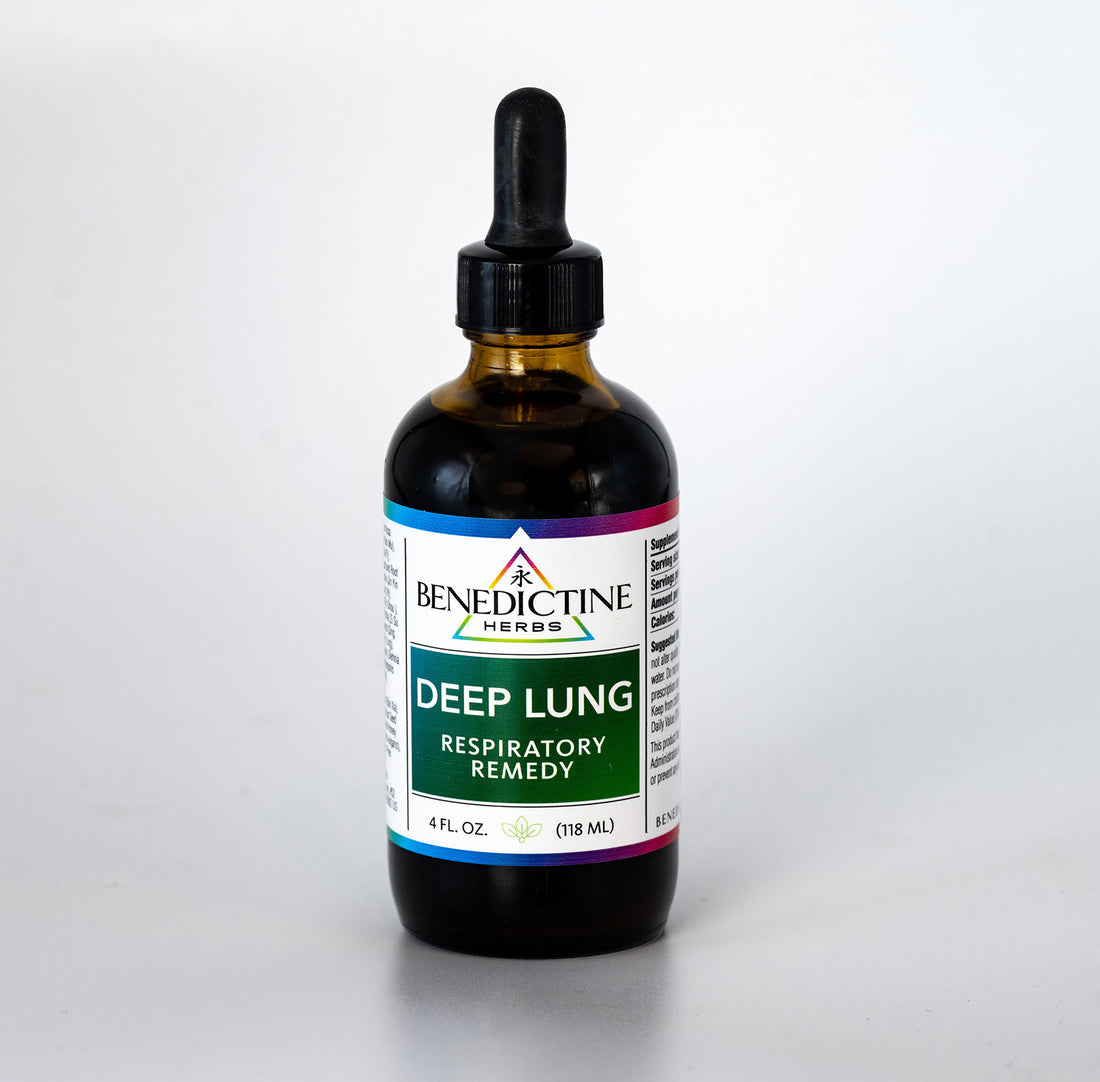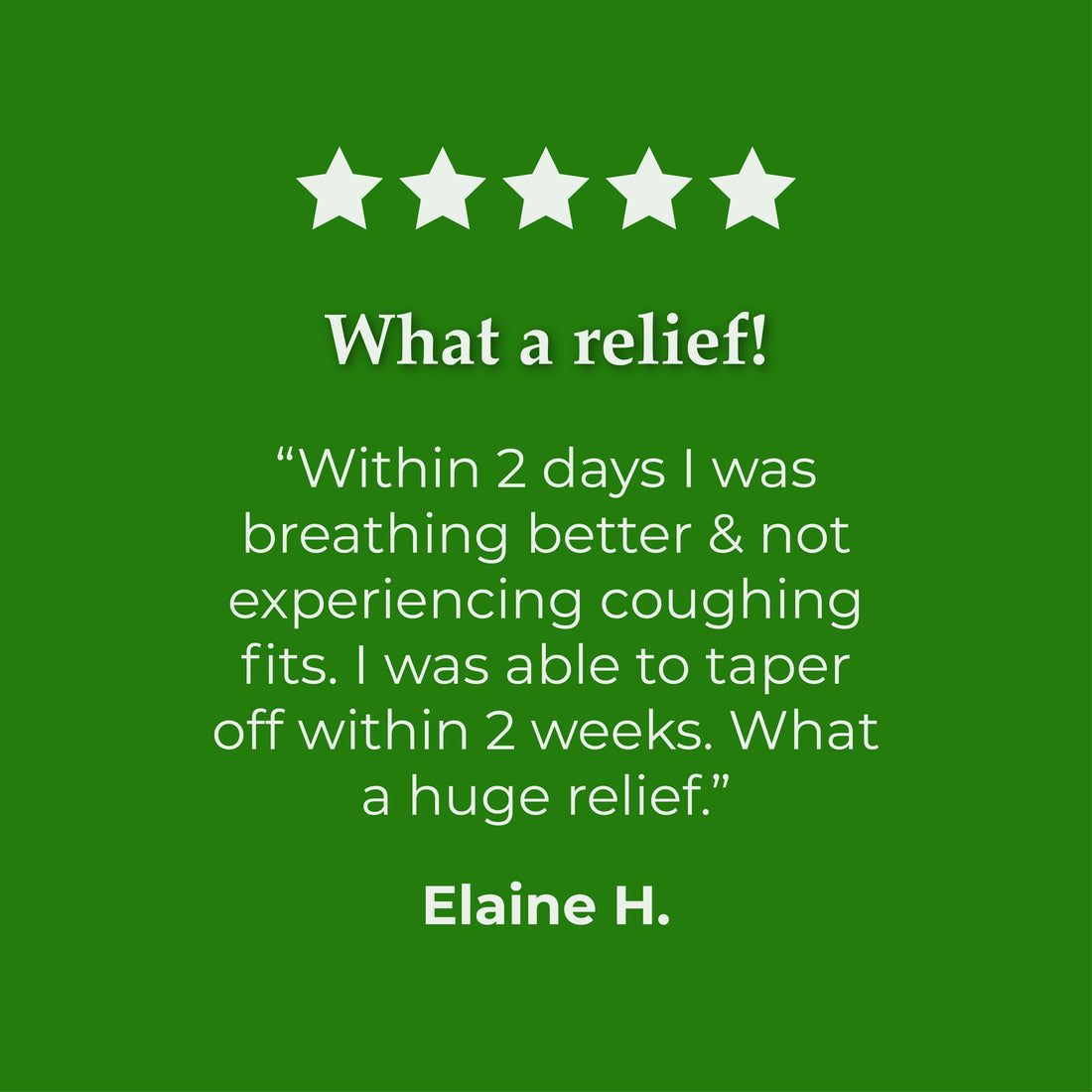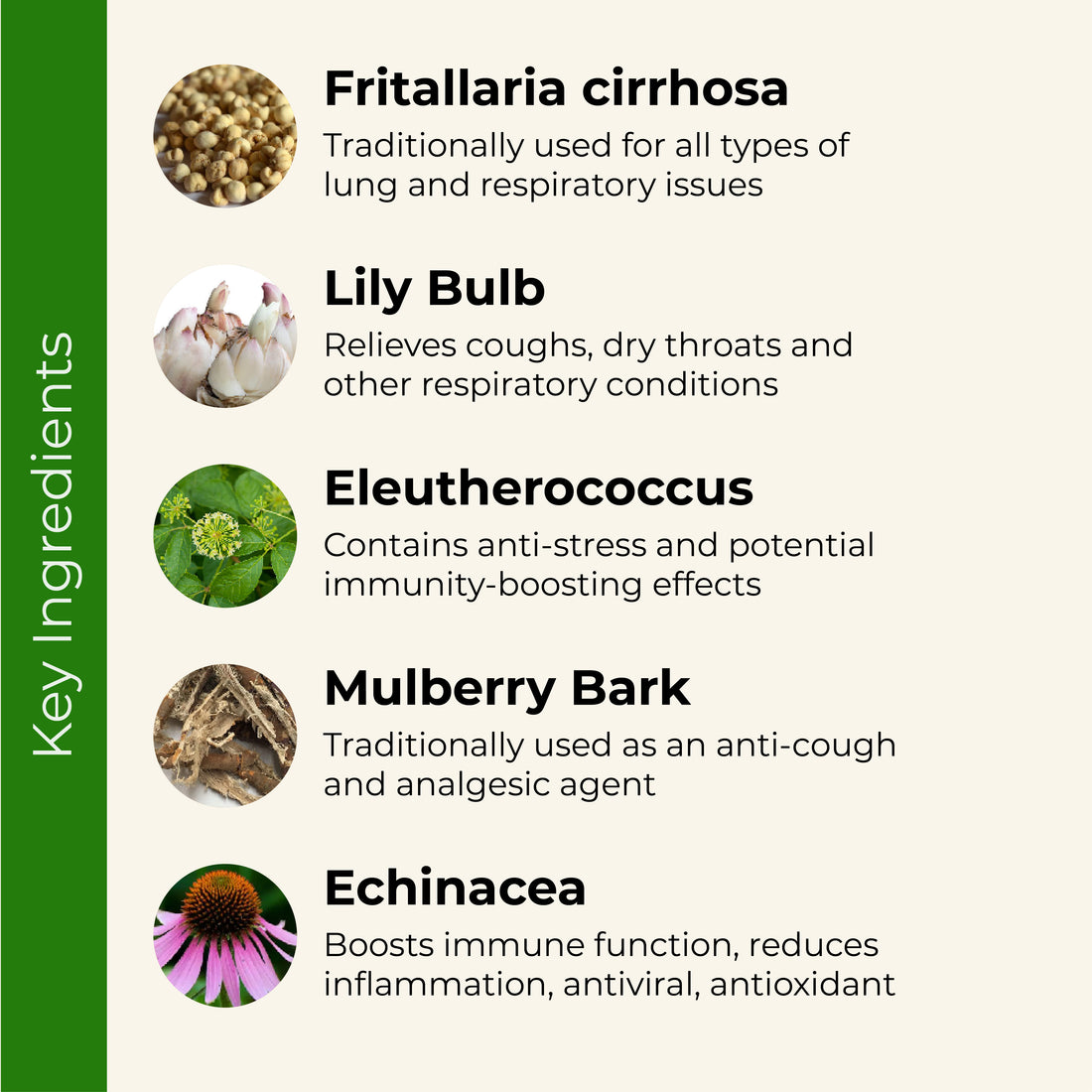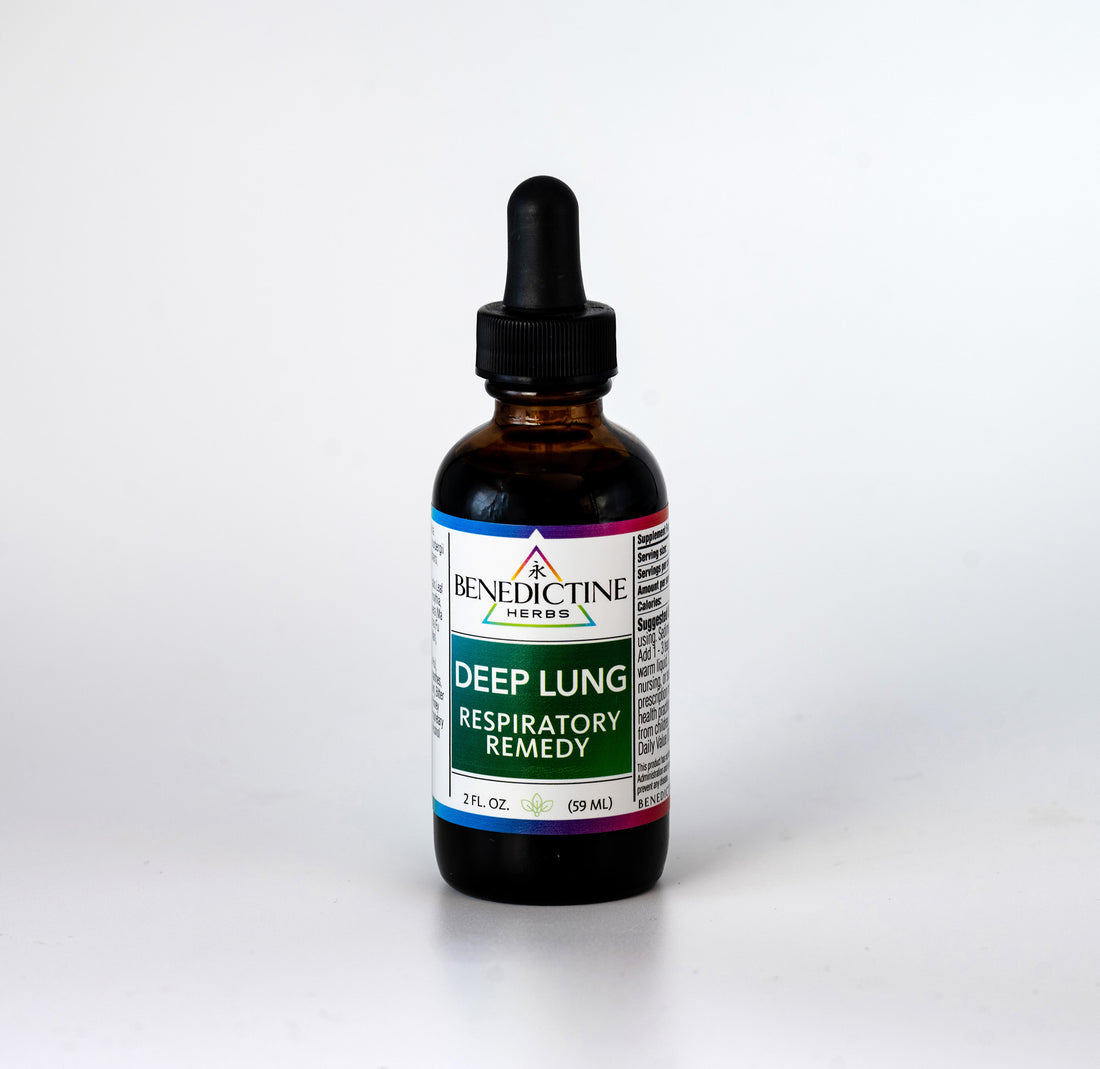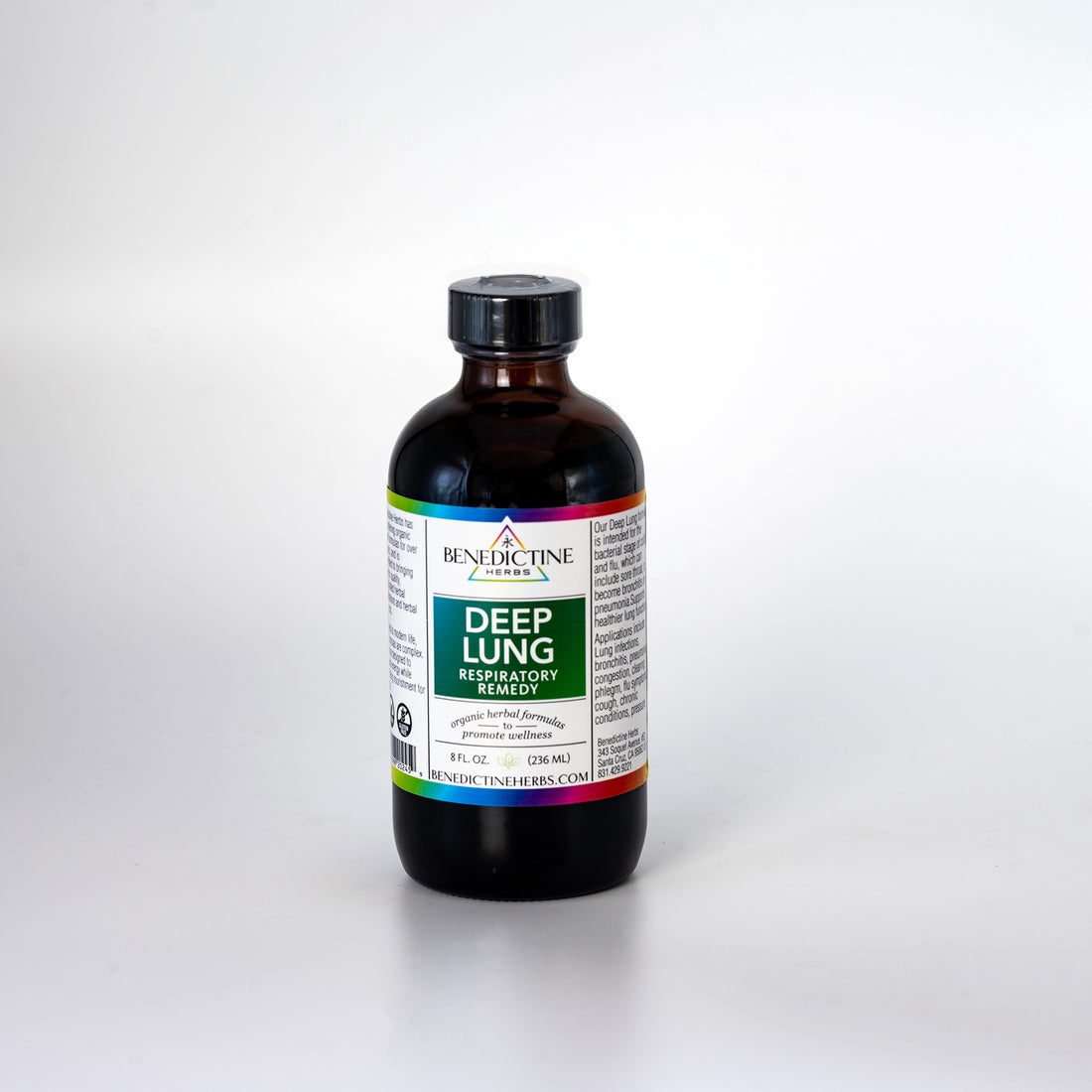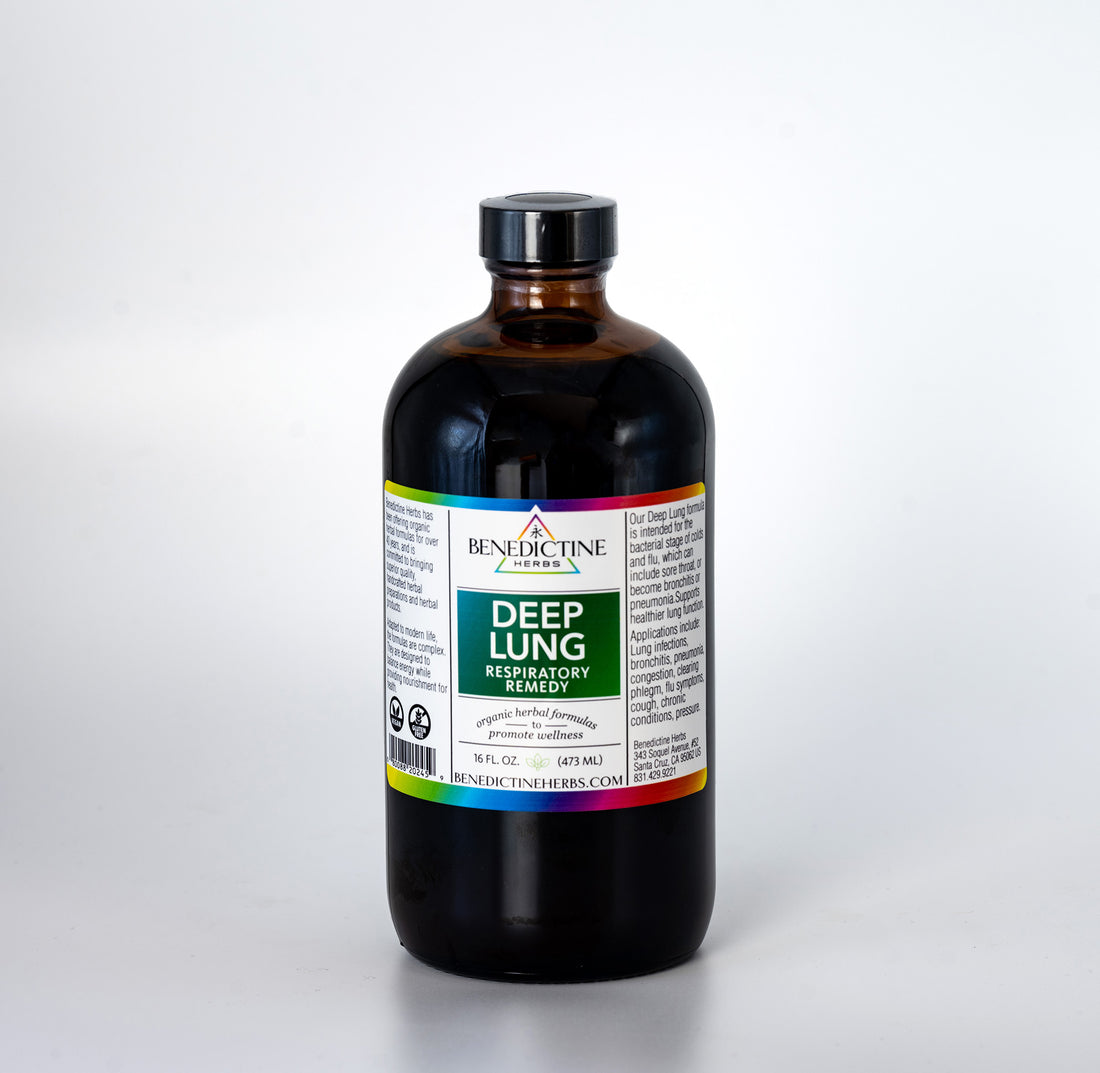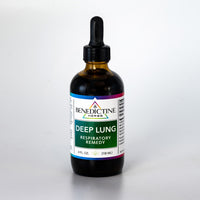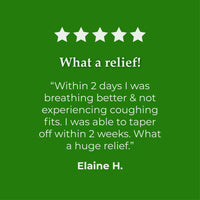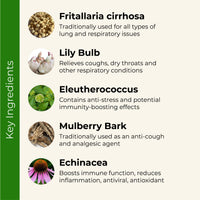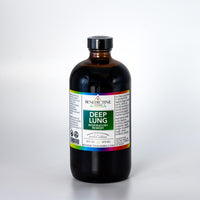 Herbal Anti-Bacterial Respiratory Support
A natural respiratory remedy*, our Deep Lung formula is intended for the bacterial stage of colds and flu, which can include sore throat, or become bronchitis or pneumonia. This specialty formula is composed of classic Chinese herbs to clear heat, stop cough, and ease congestion, and includes Western anti-microbials and additional herbs to fortify the immune system. With anti-inflammatory ingredients to support the respiratory system, Deep Lung is our anti-bacterial liquid herbal supplement for chest symptoms in the bronchi and lungs. Applications include: Lung infections, bronchitis, pneumonia, congestion, clearing phlegm, flu symptoms, sinus infection, cough, pressure.
Fritillaria cirrhosa (CHUAN BEI MU), Fritillariae thunbergii (ZHE BEI MU), Lily Bulb (BAI HE), Eleutherococcus (WU JIA PI), Mulberry bark (SANG BAI PI), Echinacea Leaf and Root (Echinacea purpurea), Japanese Honeysuckle (JIN YIN HUA), Loquat (PI PA YE), Isatidis Leaf (DA QING YE), Isatidis Root (BAN LANG GEN), Finger Citron (FO SHOU), Forsythia (LIAN QIAO), Gardenia (ZHI ZI), Perilla (ZI SU ZI), Lasiosphaera (MA BO), Sweet Wormwood (QING HAO), Dendrobium Stem (SHI HU), Poria (FU LING), Tangerine Peel (CHEN PI), Aster root (ZI WAN), Glehnia (BEI SHA SHEN), Licorice (GAN CAO), Ophiopogonis (MAI MEN DONG), Hogfennel Root (QIAN HU), Platycodon (JIE GENG), Kudzu (GE GEN), Trichosanthis Root (TIAN HUA FEN), Pinella (BAN XIA), Chinese Lovage Root (GAO BEN), Bitter Apricot Seed (XING REN), Peach Kernel (TAO REN), Chinese Honey Locust Spine (ZAO JIAO CI), Thyme (Thymus vulgaris). Other Ingredients: Proprietary Homeopathics, Organic Gluten-Free Alcohol and Distilled Water.
Shake well before using. Sediment does not alter quality. Add 1 - 3 teaspoons, 2-6 times per day in warm liquid. Do not use if pregnant, nursing, or seal is broken. If taking prescription medication, inform your health practitioner before use. Keep away from children. Store in a cool dark place.
*This statement has not been evaluated by the Food & Drug Administration: This Product is not intended to diagnose, treat, cure, or prevent any disease.